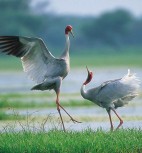 KARACHI: The world's tallest flying bird, the majestic Sarus crane is back in Pakistan after more than a decade.
A lone pair sighted in Nagarparkar this year is a hope that the rare bird species may become part of Pakistan's landscape again. But this can happen only if people develop a love for this beautiful and delicate creature and start protecting it.
This important information was shared at a meeting held on the premises of the IUCN (International Union for Conservation of Nature) on Friday where wildlife experts, nature enthusiasts and government officials of relevant departments formed a group for cranes' conservation with its initial focus on sarus cranes.
The meeting was organised by the Save Wildlife and Nature (Swan).
The meeting discussed in detail the present status of cranes' population, the threats the birds were facing and the measures needed to address those problems. The participants at the meeting were informed that there were about 15 species of cranes in the world. Of them, four species visited Pakistan during winters in the end of September and left by early March.
The Siberian crane had not been seen in Pakistan for many years whereas the population of demoiselle cranes and common cranes was also fast dwindling. And though sarus cranes were still found in large numbers on the Indian side, not a single had been sighted in Pakistan till this year.
The birds, the experts said, were found in all the four provinces and except Khyber Pakhtunkhwa, all the three provinces had imposed a complete ban on cranes trade and trapping. Influential hunters, however, had made these official restrictions meaningless, they observed.
"Khyber Pakhtunkhwa [KP] tops the list where these birds are hunted on a large-scale followed by Balochistan and Punjab, Mr Ashiq Ahmed Khan, senior wildlife conservationist, said, adding that it was due to extensive hunting that the cranes conservation centre in Lakki Marwat district of the KP could not succeed despite funds allocation.
Nagarparkar, Dr Khan said, was used to be the breeding ground of sarus cranes which they were forced to leave when one of the birds in a flock were shot down in 1999 and since then there had been no report of the bird's sighting.
We must not lose the species again. They could breed if their habitat is left undisturbed," he said. Groups comprising relevant stakeholders and wildlife enthusiasts had already been formed in Punjab and Balochistan for cranes conservation, he added.
The group's initial focus, he said, would be on sarus cranes but gradually initiatives would be taken to protect other wildlife species depending upon community needs. The participants at the meeting were of the opinion that efforts to protect these cranes and their important staging and breeding habitats in Pakistan would include identification of critical sites for each species, mobilisation of communities for the protection, developing a linkage with other non-government organisations and private companies operating in areas visited by these birds, creating public awareness as well as setting up zones for crane refuge.
It was decided that additional secretary of forest and wildlife Aijaz Ahmed Nizamani, who was at the meeting, would chair the working group on cranes' conservation.
Representatives of the Sindh wildlife department, the World Wildlife Fund for Nature and the Pakistan Conservation Society also attended the meeting. A short documentary, Cranes of Pakistan, by Swan was also screened to highlight the present global and regional status of the birds and threats to their population.