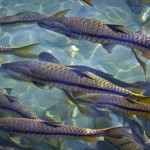 Native to Pakistan, Golden Mahaseer are common in Malaysia, Indonesia, across southern Asia to Iran, including the Indian Peninsula as well. It is a popular game-fish, the largest species of mahseer, and can reach up to 2.75 m in length and 54 kg in weight, though most caught today are far smaller. It is threatened by habitat loss, habitat degradation and over fishing, and it is estimated that it already has declined by more than 50%. The species has been reported from across the Himalayan region and elsewhere in south Asia and southeast Asia, ranging from Afghanistan, Pakistan, India (Darjeeling to Kashmir), Nepal, Bangladesh, Bhutan, Sri Lanka, Myanmar, western Iran to eastern Thailand.
Habitat
Inhabits the montane and submontane regions, in streams and rivers. T. putitora is a major tor distributed in mid hills stretches of Himalayan region. It inhabits rapid streams with rocky bottom, riverine pools and lakes. It seems that Sahar neither inhabits the warm terai climate nor streams of very cold climate; but in natural conditions it inhabits moderately cold and climate regions of tropical highlands. The fish is a column feeder in freshwater found in pH ranges 7.4 – 7.9 and in subtropical condition 13°C-30°C.
Breeding
It is omnivorous in nature during their adult stage and feed on periphytic algae and diatoms in juvenile stage. The feeding and breeding habitats are lost almost throughout their distributional range.
Major Threats
In Pakistan, the population is fast depleting and at present are chiefly localised to certain major river systems and is fast approaching extinction in the streams and lakes of northern India. Large fishes are only found in some of the perennial pools.
This species is declining from its natural habitat due to urbanization, illegal encroachment, over fishing and chemical and physical alterations of their natural habitats.
Fishery productivity declined in the Tehri Dam in the Garhwal Himalaya, India. The stress on the population is not only due to its over exploitation, but also due to the rise in developmental activities, especially the growing number of hydroelectric and irrigation projects which have fragmented and deteriorated its natural habitat.
Conservation Actions
Further research is required in to the impact of threats, especially over-harvesting and habitat degradation.
The species has the potential for being ranched in rivers/artificial channels of Nepal and other countries of the Trans-Himalayan region.
At present, attempts to culture and conserve Tor spp. have been initiated in most trans-Himalayan countries to compensate for the decline. Strategies for preservation of existing stock by habitat conservation, development of seed production technology for restocking and culture have been undertaken to promote the population.