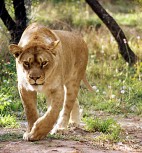 Addressing a 5 hours seminar on "Conservation of Wildlife in Thar" held at ICCBS, University of Karachi, some serious distress over a remarkable decline in population of precious wildlife in Thar was shown. Held on the 25th of this month, the speakers raised serious concerns and demanded the locals and influential hunters to bring an end to unlawful hunting in Thar. Strict actions need to be taken to put an end to the ruthless hunting and trapping of endangered and rare species of the Thar Desert. The speakers insisted upon the officials to force a complete prohibition on hunting and poaching in Thar.
This constituency of Sindh is blessed with the precious and uncommon species including Blue Bull (Neel Gae), desert Gazelles, Thar peacocks, antelopes, desert rabbit, and sand grouse. Thar requires appropriate attention at every platform so that the endangered wildlife can be protected. Tharparkar district is a remarkable sanctuary where no crime activity is reported. Pakistan can also endorse tourism to present a worthy image of national economy through the exhibition of Thar wildlife.
Thar Desert structures a natural frontier between India and Pakistan. In Pakistan, it is spread over an area of 20,000 sq. km. In preceding years, migratory birds were seen in a great number throughout the winter season but in the recent times, their migration rate has declined severely.