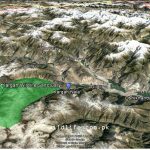 This Wildlife Sanctuary is an IUCN Category IV species administration area with the principal goal to preserve, maintain and reinstate species and their habitats. This landscape was stated and identified as a wildlife sanctuary in the end of year 1975 in November.
Location:
Kargah wildlife sanctuary is located approx. around 35°49'55.74″N and 74° 4'58.43″E around the border of Gilgit, Ghizer and Diamer districts of the province Gilgit Baltistan. The valley covers 445 sq km which can be accessed travelling five km south-west of Gilgit by following the Kargah nala.
Landscape:
Kargah's landscape is dominated by the Kargah nala and high peaks. Annual rainfall/snow is more than 200mm out of which some is in the form of snow in winter. There are many small lakes in the region but this sanctuary is also a site for more than 10 small hydro electric power generation plants in Gilgit Baltistan. Altitude in the area ranges from 2000m at Kargah nala to 4800m at high peaks in the region.
Flora in the area:
>> Foliage and shrubs in the area consist of flowering plants in the olive and lilac family like Fraxinus, some form the genus Salix and Pistacia which is a genus of flowering flora in the cashew family .
>> Deciduous hardwood tree of the genus Betula are present at moderate altitudes.
>> There are evergreen trees and shrubs of Olea, evergreen Juniperus that are coniferous trees in the genus Juniperus and Spruce trees of the genus Picea that also remain evergreen.
>> Shrubs like kail are common along with Rosarugosa which is a suckering shrub which builds up fresh plants from the roots and Daphne oleoides which is a shrub of the family Thymelaeaceae.
Fauna in the Area:
There are multiple mammal species that can be sighted in the region from the goat family.
>> There are around 150 individuals of the Astore Markhors (Markhor Capra falconeri) which can be identified by their large curved flat horns.
>> The sanctuary is also home to Blue sheep and the Alpine Ibex also known as the Capra Ibex of the northern areas. Rare sights of the Alpine musk deer were also reported.
>> The main predatory mammal in the area used to be the elusive wild snow leopard but this endangered species of big cats in now very rare in the region.
>> The major aves species in the region are Chukar partridge (the national bird of Pakistan), snow cock which are species in the genus Tetraogallus of the pheasant family, snow paritages and Monal pheasants. The Kargah nala has a good number of trout species as well.
---
References: The IUCN Red List of Threatened Species